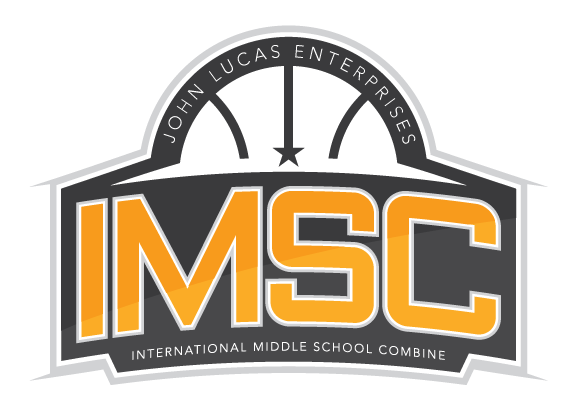 2017 John Lucas International Middle School Combine
May 11, 2017
Every year in seems like the JLE International Middle School Combine has more and more talent and this year the trend seemed to continue. This year the camp was guard oriented. I watched some of the best 8th grade guard play I've seen in a while led by physical dominant 2021 PG Jackie Johnson III and the totally poised and under control 2021 PG Daeshon Ruffin. Both these guards I can see making a big impact on the high school scene as freshman. With that being said they weren't alone 2021 Preson Murphy, 2021 Jalen Breazeale, 2021 Ryan Conway and 2021 Carter Whitt also had me very excited with their play.
2021 Pape Cisse 6'9 F (Fairpoint Prep) Anaheim, CA
Pape was obviously one of the best prospects in the camp. Pape has a good feel for how to play the right way spacing, passing and handling the ball like a guard at times. Cisse needs to gain strength and become a better help defender. Pape has range to the 3 point line with his lefty stroke. When it is all said and done in this 2021 class look for him to finish at or near the top.
2021 Manny Obaseki 6'1 G (Ford Middle) Allen, TX
With all the skilled players in camp, this young man was my favorite player in the whole camp. He was great at manufacturing points. By far to me the best on ball and help defender in the camp. Manny plays above the rim and is a tenacious rebounder. With all the big men in camp, I still would bet he lead the camp in blocked shots. His energy was unmatched, and if he game continues to develop, watch out.
2021 Daeshon Ruffin 5'8 G (Byram Middle) Jackson, MS
Ruffins court awareness is crazy. Daeshon is so polished, unselfish to go with his outstanding feel for the game. Never does he force much and seems to get more satisfaction getting his teammates involved then scoring himself. The type of PG I can see starting for his high school for four years and leaving as the all-time assist leader as well as one of the all-time leading scorers. Ruffin is the total package at point guard.
2021 Jackie Johnson III 5'8 G (CMA Academy) Wichita, KS
Jackie is a powerful left handed lead guard who gets to the cup at will and seemed to invite contact. One of the most physical guards I've ever seen in this age group ever. To be as explosive attacking the basket I was more than surprised by the deep range on his jump shot. Jackie consistently hit from NBA range but his most impressive attribute may be his ability to guard 94 feet.
2021 Jonathan Lawson 6'6 G/F (Bellevue MS) Memphis, TN
He has two brothers at Kansas and one being recruited by almost every high major school in the country and when his light comes on he has a chance to be the best. You can tell for him, he's still in the feeling out process. He has every skill you want from a wing forward. I truly believe he doesn't know yet how good he can be. When he does, watch out.
2021 Preston Murphy Jr. 5'9 G (Elkhorn Valley View) Omaha, NE
Has all the tools you want in your lead guard. Preston plays with great pace, can score at all three levels and he loves to compete on both ends. Love that he really controls the game and knows when to take over and when to get his teammates involved. Has a tremendous upside and the pedigree to be special.
2021 Amare Marshall 6'1 G (St. Benedicts Prep) Montclair, NJ
This kid a ballplayer plain and simple. Marshall has a great feel for the game and plays great without the ball. This weekend he seemed to make just positive play after positive play. Defensively he has great instincts and was tough as nails.
2021 Jalen Breazeale 5'8'G (Hughes Academy) Mauldin, SC
Tough competitive guard who really can get after you defensively. Needs to pick up his pace and use his speed to his advantage more often. If he becomes a knock down shooter from 3 he will be a problem for a long time.
2021 Cameron Oliver 6'1 G/F (James Bowie Middle) Richmond, TX
Cameron is shifty and quick and knows how to navigate through traffic. From deep Oliver can stroke it from deep and when he gets to the cup can finish with either hand.
2021 Ryan Conway 6' G (St. Agnes Catholic) Lutherville, MD
Ryan Conway is a very physical and unselfish lead guard. Every game he started off each quarter getting his teammates involved. Conway seemed very comfortable getting into the lane and making things happen. One of the elite guards in his class nationally and showed it again this weekend.
2021 Jack McFadden 6'4 (Maine-Endill MS) Binghamton
I really liked this kid. Jack competed and was tough as nails and had a nice swag about him. McFadden was stroking from deep, dropping dimes and getting to the cup. All weekend he did this with a chip on his shoulder and a little nastiness to his game.
2021 Myles Phillips 5'10 G (K12 International) Renton, WA
Phillips can stroke from all three levels. From outside Myles is very efficient from deep. Showed he can with and without the ball. Quite a few times, he got his shot off the dribble. Phillips has very good offensive tools to become a big time college prospect by the time he graduates high school.
2021 Reuben Fatheree 6'8 F/C (Briscoe Jr. High) Richmond, TX
This wasn't the perfect type camp for a player like Reuben, because it's so guard oriented and each team had multiple point guards trying to prove themselves. With that being said, it didn't stop him from being aggressive on both ends. He contested shot after shot and on the offensive end he made plays and got easy baskets for teammates.
2021 Duncan Powell 6'6 F (McCowan MS) Desoto, TX
I call him a young Perry Ellis. He has all the tools and loves to compete. Right now I see him as a back to the basket player, who can stretch out at the four. Range on his shot is there and he's a great rebounding the ball on both ends. If he grows two to three more inches, he can be very very special.
2021 Christian Bento 6'11 C (Vail Ranch MS) Temecula, CA
The big man knows his game and plays to it. He's not overly athletic and understands it. Bento has improved his footwork since I have seen him in the fall. Chris has very good hands and can score with either hand around the basket. Bento occasionally knocked down the 10 to 15 footer. Chris really passes well out the post and that's not a norm for a kid his age.
2021 Samuel Onu 6'10 C (George Gervin Academy) San Antonio, TX
Samuel was easily one of the biggest surprises in the camp this year. Training all winter in San Antonio with Charles Bassey has paid major dividends in his game. Improved coordination and adjusting faster than expected to the American game and speed having only played for a short period of time.
2021 Noah Robledo 6'4 F (Leander Middle) Leander, TX
I was very impressed with his post play. Noah made a number a good plays against some of the bigs in the camp. One of the most active players in the lane and he knew his strengths and played to them and was seldom out worked.
2021 Noah Kon 5'11 G (St. Laurence Catholic) Sugar Land, TX
Houston's own Noah Kon did not disappoint at any this this weekend. Kon finished 1st overall in the combine testing showing his all-around athletic ability is going to put him in the upper echelon of guards in 2021. Competitive and you really have to appreciate when you see a kid who loves to play basketball.
2021 Carter Whitt 6' G (Trinity Academy) Raleigh, NC
The young fella was definitely fun to watch. Whitt has a wicked jumper and sneaky quickness that gets him to the cup with ease. All weekend he was dropping dime after dime.
2021 Luke Murphy 5'11 G (Bedford Middle) Westport, CT
If you want a shooter with ice water in his veins, you got it with this young man. Murphy is what you call a confident shooter who can 0-4 and then real off 4 straight like it's nothing. Luke is deadly when left open.
2021 Keon Edwards 6'5 F (St. Thomas Episcopal) Pasadena, CA
Edwards proved in the first day that he was one of the top 2021 prospects in the country. He competes on both ends and takes pride in rebounding the ball. His jump shot really needs to improve for him to reach his potential as a basketball player. Edwards was hurt and did not play the second day.
2021 Jalen Blackmon 6' G (Blackhawk Christian) Fort Wayne, IN
Not shy about letting it fly from deep. The youngest of the Blackmon brothers who'd dad starred at Kentucky in the 80's and older brother just finished up at Indiana. Jalen has the tools and the pressure necessary for him to become the best in the family when it is all said and done.
2021 Jon-Cole Middleton 6'4 F/C (Sutton Middle) Atlanta, GA
Easily one of the most productive and effective forwards in the camp. Really fights hard for position around the paint, has great hands and good coordination on the move with the ball. Look for him to be a name you hear many times in the future.
2021 Trey James 6'10 C (Martin County Middle) Sheldon Clark, KY
James is not a great athlete but has a good understanding of the game. He showed he can play out the double team. Trey is very patient in the post and never seemed to rush. He showed a very soft touch around the cup.
2021 Freedom Rhames 5'6 G (Turning Point MS) Los Angeles, CA
Freedom Rhames is very high I.Q. player with a good understanding of the game. Rhames is very unselfish and efficient scorer and ball handler.
2021 Harrison Kelly 5'11 G (Riverdale) Memphis, TN
Kelly came in the camp with the reputation as a shooter and didn't let me down. What surprised me is how he put the ball on the floor and mad things happen for his teammates and was all around just impressive to watch.
2021 Rahsool Diggins 5'11 G (DePaul Catholic) Philadelphia, PA
Fundamentally sound guard who can really get to the hole with ease. Needs to be more of a vocal leader if he is going to be a high level point guard.
2021 Legend Geeter 6'4 F (Constrium MS) River Rouge, MI
Geeter has good size and was active on both ends. One of the better front court players getting up and down the court with best of them. Unafraid of contact and finished quite a bit around the basket.
2021 Maddox Kopp 6'1 (First Baptist Academy) Houston, TX
Kopp is a strong skilled wing that plays with A high IQ and good patience. Shoots the ball well off the dribble and can catch and shot from three.
2021 Wade Taylor 5'11 G (St Anthony's) Duncanville, TX
Taylor can really shoot the ball from deep and is a very good passer. Ultimate teammate who just finds ways to fill in where his team is struggling to help them win.
2021 William Jeffress 6'5 F (Walnut Creek MS) Erie, PA
One of the best performers of the weekend Jeffress did it all. Rebounding is his niche and man does he compete and play hard. His motor is of the highest caliber that I have seen in middle school. William needs to work on his ball handling and his outside shooting to become the star I think he can become, reminds me so much of Billy Owens.
2021 Langston Love 6'3 G (St. George Episcopal) San Antonio, TX
Love the long term potential of Love. Destroyed defenders on his way to the rim and finished. Langston really has improved his body and it showed this weekend. Defensively he really needs to improve his foot speed so he can defend all the guard spots. Easily one of the top prospects in the state of Texas and that says a lot.
2022 Mason Manning 5'9 G (Siwell Middle) Jackson, MS
The young man is a camp vet. To be only a 7th, he's very professional and knows it's all business and played like it. Mason was very good at getting his teammates involved but also made plays for himself. Mason plays with a poise way beyond his years.
2022 Bryce Griggs 6' G (Provision Academy) Lake Jackson, TX
Griggs is very talented and that's never been the question. He has a greatbody and skill set for his age. Griggs has a nice jumper and when hot can go on a roll. He has fallen in love with the jumper and doesn't attack near as much. For him to remain one of the truly elite in his class he will need to find a better balance of getting to the paint and knocking down jumpers from deep. Right now his defense is still trying to catch up to his body's growth and is a step slow but I would expect that to change as he adjusts to growing.
2022 Derrian Ford 5'11 G (Katy Junior High) Houston, TX
One of the more poised ball handlers in the 2022 class. Ford can get to the paint and finish with contact. Defensively Ford can really change the game locking up the opposing teams point guard.
2022 Khalil Luster 5' G (Lima West Middle School) Lima, OH
The little dynamo was a delight to watch. He may have been diminutive in size, but definitely not in heart. Luster competed from the opening of camp and until the end of camp. Khalil is very skilled and handles the ball like an extension of his body. It was surprising, but he had no problem getting his shot off against bigger longer players.
2022 Marckiest Sykes 6'4 F/C (Elsie Roberson MS) Lancaster, TXVery athletic and agile for a 7th grader with his size. High ceiling kid who is Top 50 2018 wing from San Antonio Gerald Liddell's cousin.
2022 Bruce Thornton Jr. 5'9 G (Renaissance MS) Atlanta, GA
Bruce was one of the top 7th graders in the camp. He really competed and showed off his speed and quickness when matched with Bryce Griggs. Look for Thornton to be one of the top prospects at next year's camp.
2022 Chanse Perkins 6'1 GF (Brookside MS) Clear Lake, TX
I been watching his game improve over the last couple years and seems to continue. He works very hard and understands his strength and weaknesses. He seems to consistently play within himself. He understand his biggest weakness and it needs to start being addressed. He must get stronger. It's stopping him from offensively and rebounding.
2022 5'6" Tyler and 6'3" Taylor Hendricks (Indian Ridge Middle) Ft Lauderdale, FL
Twin 7th graders with one who has not hit his grown spurt. Tyler was competitive and a great teammate, made open shots. Taylor was one of the better looking athletes in the 2022 class. Will be fun to see if these two wind up 6'10+.
2022 Camron Amboree 5'4 G (Briscoe Jr High) Humble, TX
This young man always had a good understanding of the game and is very skilled. What's impressing me with his development is his toughness. He use to get pushed off his spot, now he's fight for his spot and pushing his man off of his.