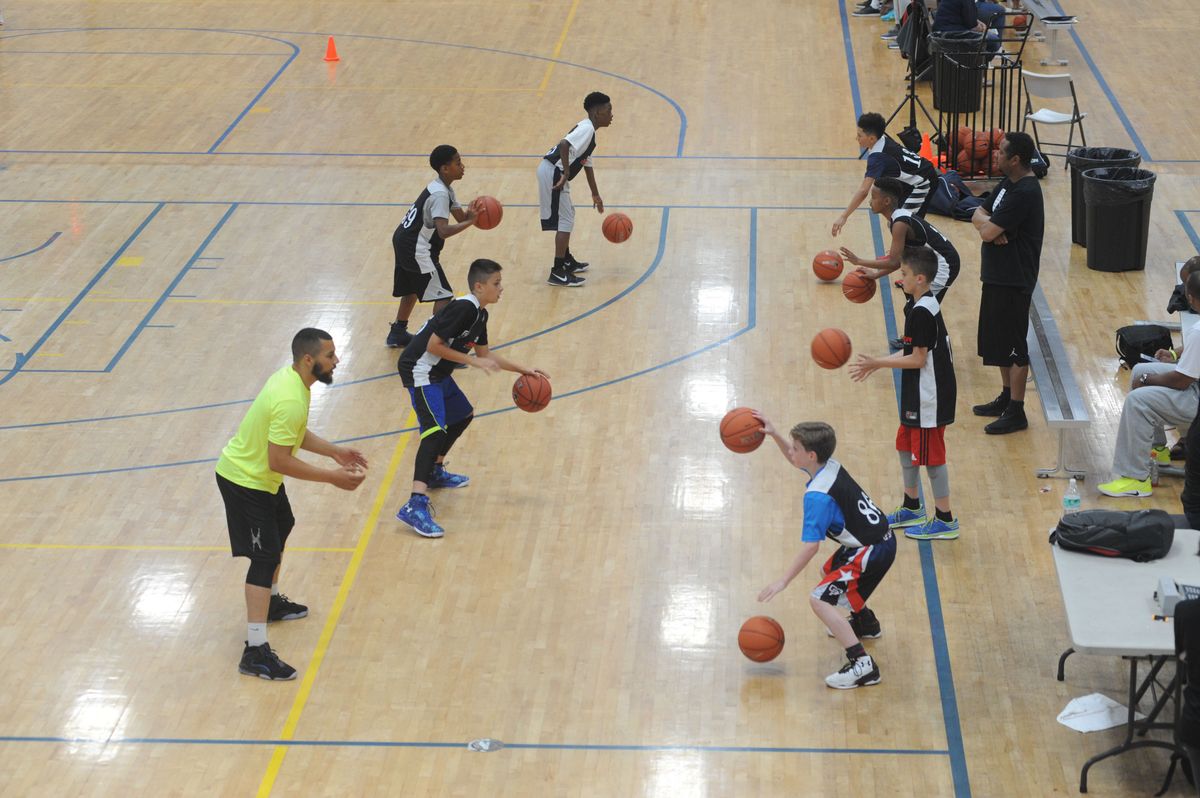 2018 Future of the Game - Las Vegas
By: Jeff Dosado (Best Coast Basketball)
Another edition of Coach John Lucas' Future of the Game featuring the top 5th & 6th graders. Players arrived from all over the country from places as far as Hawaii and France to take part in this event.
Take a look below at our notable prospects based on their performance at the camp:
Mason Brown 2024 - Las Vegas, NV
No questioning who was the camp's top performer. At such a young age his court awareness & IQ are off the charts. Throughout the weekend, Mason scored at will in a variety of ways; consistently making shots with range and off the dribble. Was pleasantly unselfish and made plays for others. Also happy to see how eager he was to absorb information during the drills as well...which isn't always the case.
Kasen Krueger 2024 - Alamo, CA
Was a difficult kid to defend all weekend for most at because of his size, high motor combined with his skill. Very efficient and did a lot of everything; rebounded the ball, scored in bunches and made plays for others. Great feel.
Alijah Arenas 2026 - Porter Ranch, CA
Tremendous feel for the game and displays the maturity and leadership qualities you would want out of your Point Guard. Despite his long and slender frame, he wasn't bothered by pressure or physicality despite being in the 4th grade. Handled the ball extremely well and consistently made shots and make plays for others. In an era of over dribbling, the ball seemed to leave his hands when it needed to. Will be one hell of a player as he continues to grow and mature physically.
Aaron Powell 2024 - Altadena, CA
Displayed his athletic superiority and heavily impacted the game on both ends. Scored efficiently all weekend by slashing to the basket. He didn't shoot it very much, but made them when he did...has a nice stroke too.
Anthony Leonard 2025 - Oklahoma City, OK
Very good athlete and was a jet in the open court. Displayed his ability to be quite crafty and handle the ball very well in tight spaces. His high motor allowed him to be very successful all weekend on both ends of the floor. Love how he really got after it defensively.
Charlie Georgelos 2024 - Boerne, TX
Not a great athlete, but what he lacked in foot speed he made up for in toughness. Your typical blue collar work horse that gets the job done. He virtually won every 50/50 ball, but tipping the ball to himself on the offensive glass or being the first to hit the floor for a loose ball. He's a player too; good stroke and handles the ball very well and can create his own shot when needed.
Anthony Smith III 2025 - Minneapolis, MN
Fundamentally sound Point Guard with very good habits and has flare to his game too. Changes speeds very well. Saw some flashes of greatness making plays for others, making shots with range and creating his own shot off the dribble. Needed to see more though...would have liked to see him be more assertive, but tons of potential here.
Luke Darien 2024 - Oklahoma City, OK
Extremely athletic and high motor, but still very raw. Played out of control at times because his skill level hasn't caught up to his athleticism yet, but nevertheless, consistently impacted the game on both ends; rebounding, deflections, blocked shots, put backs...etc. Tough to keep him off the floor.
Lofton "Zookey" Wigington 2025 - Chatsworth, CA
What this kid lacks in size, is made up for in how hard he plays. One of the very few kids I've seen in this age group that really impacts the game on the defensive end. Every time there was a turnover, he was always involved in the play somehow [defensively]; whether it was in a deflection, a strip, or anticipating the next pass out of a trap. Very few kids understand defensive positioning off the ball, well, he's one of them. Not a great ball handler, but is very shifty and was able to get by defenders and make scoring passes to his teammates.
Jevon Yapi 2025 - Las Vegas, NV
Quick guard with very good ball handling skills. Sees the floor extremely well. Tried to do too much at times in traffic, the kid is very tough to stay in front of and finishes well with both hands.
Langston Adams Jr. 2026 - Port Arthur, TX
Another 4th grader that was very impressive and played with a lot of poise all weekend. The kid was flat out TINY, but was not bothered one bit by the size or speed of kids up to 2 maybe 3 years older than him. A Point Guard that made plays for others, made shots and didn't get beat off the dribble. Really has a great feel for the game on both ends; very good habits and was very engaged in all of the drills as well.
Other notable campers:
Jaylen Wheeler 2024 - Vallejo, CA
Ian Parham 2024 - Houston, TX
Tres Luzey 2024 - The Woodlands, TX
Khai Brown 2025 - Oklahoma City, OK
Dennis Guams 2025 - France
Shyam Patel 2025 - Richmond, TX