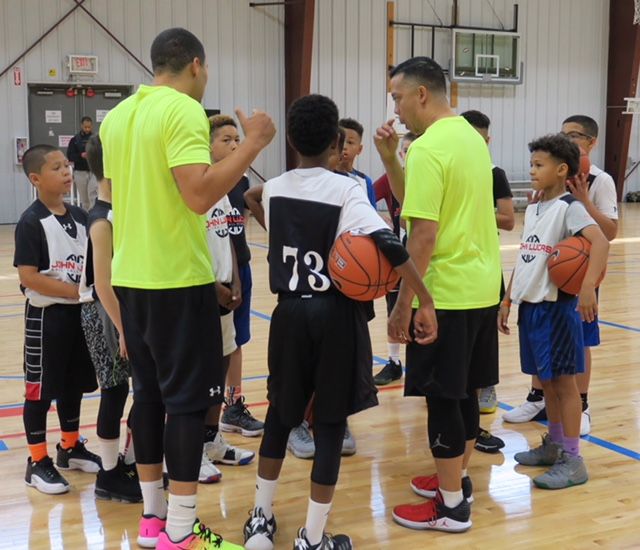 2018 Future of The Game - Las Vegas
May 9, 2018
By: Ben Perkins
Mason Brown-2024-Las Vegas, NV- Played dominate all weekend. Very crafty ballhandler with a very good basketball IQ. Played like the best player in camp and has the potential to be an elite prospect.
Kasen Krueger-2024-Alamo, CA- Very smart heady player with good size. Should a very balanced skill set. He has a nice shooting stroke, finished at a high percentage in traffic. He consistently rebounded all weekend and was an aggressive defender.
Aaron Powell-2024-Altadena, CA- Very poised decision maker with the ball in his hands. Nice athlete that finished well with contact all weekend. Unselfish player that kept his teammates involved.
Trae Herrera-2024-Hutto- Played with a high IQ and showed a very good shooting stroke. He was active without the ball in his hands.
Charlie Georgelos-2024-Boerne, TX- Smart player that made very good decisions all weekend. He showed nice foot work finishing in the paint. A strong player that also rebound very well.
Darien Luke-2024-Oklahoma City, OK- Good athlete that has very good size and played with a high motor. He is very raw in his skill set but should a knack for finishing in the paint with nice touch.
Tres Luzey-2024-The Woodlands, TX- A strong on ball defender that pressured the ballhandlers all weekend. Good ballhandler that has a good change of pace attacking the paint and should good playmaking vision. He also had a nice shooting stroke.
Donny Yeager-2024-Saginaw, MI- Should the ability to be an elite shooter that shots with good balance and efficient release. He is a confident ball handler that also showed he is a good decision maker.
MJ Yeager-2024-Saginaw, MI- Strong and reliable ballhandler that was a consistent floor general all weekend. He also showed a consistent 3point shot.
Anthony Leonard-2025-Oklahoma City, OK- This young man may have been the most active player in camp all weekend. He had multiple double-digit steal games. He really used his athleticism to constantly impact the game on both ends. He attacked the paint at will and showed a craftiness in finishing. He has nice sot mechanics and a natural ability to create space on his jump shot.
Marcus McDonald-2025-Gilbert, AZ- This kid really stood out with his consistent attacking. He had a strong handle and good athleticism. He keeps his defenders of balance with a very effective change of pace.
Quinn DeGroot-2025-The Woodlands, TX- He really catches your eye with confidence catch and shooting. He complimented his shooting with a nice pump fake and attack. He attacks the paint with confidence and showed the ability to finish with contact.
Lofton Wigington-2025-Chatsworth, CA- His ultra-competitiveness really stood out in the 1 on 1 drill station. He is a hard nose on ball defender that gives his opponent trouble always. He finished very efficiently with contact and showed nice court vision in games under pressure.
Alijah Arenas-2025-Porter Ranch, CA- The first thing that stands out about this young man is his natural ability to communicate with teammates and lead in a positive way. He is a long smooth athlete that glided into the paint. He has a great feel for the game and played with a high IQ
Jevon Yapi-2025-Las Vegas, NV- Young man really popped in games with his flare for the game and athleticism. Very creative with his handle and consistently showed nice floor vision in transition. He showed a competitiveness that he meets every challenge he faced.
Shyam Patel-2025-Richmond, TX- He really caught my eye with his 3point shooting where he brought his team back with 3 consecutive 3pointers in a row. Really shoot the 3 at a high percentage all weekend. I really liked his willingness to rebound on both ends of the floor and create more opportunities for his team.
Anthony Smith III-2025-Minneapolis, MN- He stood out on his team as the go to playmaker anytime they needed a play. He is very crafty as a ball handler and showed a natural feel for the game. He was very effective and efficient as a playmaker all weekend.
Langston Adams Jr-2026-Port Arthur, TX- His young man really pops out all weekend with his blazing speed with the ball in his hands. He should an efficient handle and made consistent plays for his teammates. He showed he can knock down the 3, which as that improves will make him a very tough matchup for anyone.
Morgan Luzey-2026-The Woodlands, TX- His young man was fearless all weekend. He confidently took over the role of point guard on his team as one of the youngest in camp. He made the right passes at the right time to his teammates and showed the ability to get in the paint and finish with contact. He also has a nice shooting touch from 3 and mid-range.
Chase Graham-2026-White Plain, NY- I really like this young man's confidence in going get the ball and lead his team when they needed plays. He showed good floor vision in transition and the half court. His ability to knock down shots made him a tough match up all weekend.
Triston Mcdonald-2026-Atlanta, GA- It was fun watching this young man play with an IQ that was highly advanced for his age. He showed he could do a little of everything and never backed down from a bigger older match up. His crafty finishing moves really made him a handful to deal with.