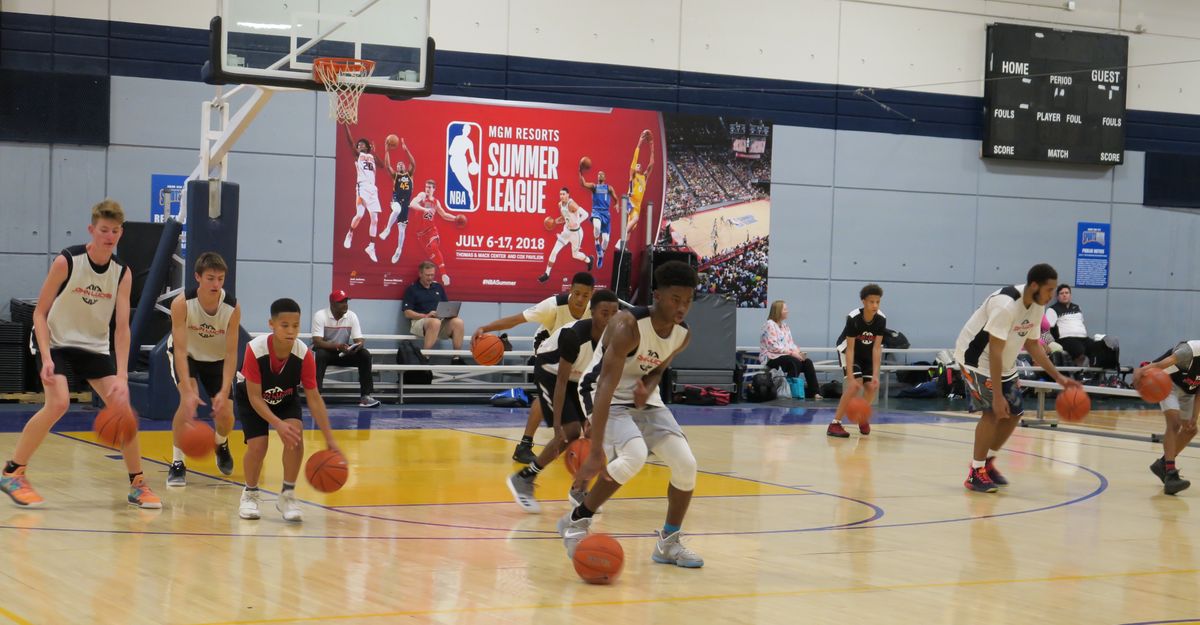 2018 International Middle School Combine
By: Ben Perkins
This years International Middle School Combine was one of the most balanced, with high level players that I feel we have had in a few years. It gives me confidence that our 2022 and 2023 Classes are ready to have a real impact as they make the step to High School. The level of performance improved with every drill and game. It was great to see players really receive the instruction and work to apply it in games. Here are a few players that really stood out to me.
Mohamed Ngom6'10 2022 Houston, TX- The first thing that stood out is he has the size and body to step into the next level right now. He is a fluid athlete and runs in transition very well. The key will be his commitment to developing his skill set and improving his feel for the game.
Adam Steward6'9 2022 Houston, TX- The thing that caught my attention was the IQ that Adam played with. He has natural instincts for the game. The key will be being commitment to the weight room and developing a consistent shooting stroke. He has the needed measurements to be a nice prospect.
Bowen Hardmen6'3 2022 Cincinnati, OH- This kid was really fun to watch. He consistently showed the ability to do whatever with need on his team at a high level. He has a good motor. Should an efficient shooting stroke. He rebound aggressively and pushed the ball well starting the break and making the correct reads. He really has a bright future as he continues to grow
Damonze Woods6'5 2022 Amarillo, TX- Damonze is has an extremely impressive frame and is a very good athlete. He was a load attacking the basket all weekend and nearly impossible to stop. He is a physical rebounder that loves to use his body to gain position. As he continues to develop his shooting stroke he will be a very high-level prospect.
Rory Steward6'8 2022 Toronto, Ontario- Rory is a big body bruiser that enjoyed mixing it up. He was a very consistent offensive rebounder all weekend and showed nice footwork on his post moves and maneuvering in the paint. He has a high motor and played with toughness that matched his frame.
Brendon Mwamba6'2 2022 Pearland, TX-What stood out watching Brendon is that he was an impressive and efficient playmaker at his size. He played with a high IQ and consistently finished strong in the paint as well as making the right passes to teammates. His ability to knock down 3s efficiently allowed him to keep defenders off balance all weekend. He was one of the best playmakers at his size in camp. He is a clear high-level prospect.
Austin Benigni5'9 2022 The Woodlands, TX- The word that comes to mind watching Austin is "Pitbull". He plays the game with an intensity that was unmatched all weekend. He played with an aggressive pace that made it impossible to prevent him from attacking the paint and make the right plays all weekend. The exciting thing is he played on the defensive end with the same fire and passion on the ball and in passing lanes. He was possibly the best two-way point guard in camp.
Jordan Williams6'1 2022 Houston, TX- Jordan stood out as maybe the most physically imposing guard in camp. He played like he truly enjoyed playing defense and forcing his opponents out of their comfort zone. His great balance of athletes and strength made him just as tough on offense attacking the paint. He also showed very good IQ in making the correct plays for teammates.
David Martinez5'9 2022 Houston, TX- David showed a very confident and crafty handle that made him very difficult to keep out the paint. He showed very good vision in traffic and handled pressure with ease. Really good floor leader and communicator on the floor.
Cade Hornecker6'8 2022 Amarillo, TX- Cade is a very fluid and bouncy athlete that played with a good motor. He really excelled in transition and competing on the class. Its clear as he gets stronger and continues to develop his skillset that he can be a high-level prospect.
Aiden Shaw6'5 2022 Overland Park, KS- Aiden really caught me attention is drills with his willingness to compete and really carried it over to the games. He has good size and feel for the game. If he continues to develop his perimeter skills and his body, he can be a nice prospect.
Isaiah Griffin5'11 2022 Union, NJ- Isaiah is a proto typical playmaking point guard. He was very vocal and confident in communicating to his teammates. His high-level change of pace made it very difficult to keep him out of the paint. He was very consistent and efficient with getting his teammates the ball in scoring position.
Camron Amboree5'8 2022 Houston, TX- Camron has continued to live up to his reputation. He is one of the most skilled and efficient scoring guards in the country. He has really improved on playing and finishing with contact. His high IQ allows him to get his quick release shot off at will from deep. He also has gained more confidence in attacking in traffic and make the right reads.
Shawnn Smith6'2 2022 Philadelphia, PA- Shawnn stood out in the drill work with his competitive approach and nice size. He really embarrassed his match ups and meet the challenge. It was great to see him also apply it in the games and consistently out work his opponent.
Mark Mahaney6'0 2022 Lafayette, LA- Mark played with a flare and excitement that jumps out at you. He plays with a good pace and is extremely crafty and illusive attacking the paint. His combination of vision, ball skills, and efficiency made him one of my favorite to watch this weekend.
Trey Pettigrew5'10 2022 Lisle, IL- Trey stood out because of his end to end speed. He was very illusive and shifty in the half court and was very efficient making plays for teammates. He consistently made shots all weekend with made him very difficult to deal with all weekend.
Jameel Brown6'3 2022 Philadelphia, PA- Jameel stood out as a long athletic playmaker that should a commitment to getting teammates involved. His IQ and motor should all weekend as he did whatever his team need him to. The more he learns to become more assertive offensively the tougher he will be to contain. He has all the tools to become a high prospect.
Elijah Fisher6'5 2023 Oshawa, Ontario- The first thing that comes to mind is "Man-child". He has a special combination of IQ, athleticism, and toughness that made him one of the most dominate players all weekend. He has a good handle and should the ability to consistently get his shot off from the perimeter. He has all the tools to be one of the highest rated prospects in camp if he continues his development.
George Washington III5'8 2023 Spicewood, TX- George stood out as an elite level shooter. He has really grown and become more comfortable with contact and showed the ability to attack the paint and make plays. He has a crafty handle and great footwork that allowed him to create space for his shot at well. If he continues to develop at this pace he has the potential to be an elite combo guard.
Jackson Shelstad5'8 2023 West Linn, OR- His explosiveness in transition really caught my attention. He changes speeds very well which made him extremely tough to stay in front of all weekend. He also showed he could knock down 3s efficiently all weekend, which made him very productive all weekend. He was very fun to watch.