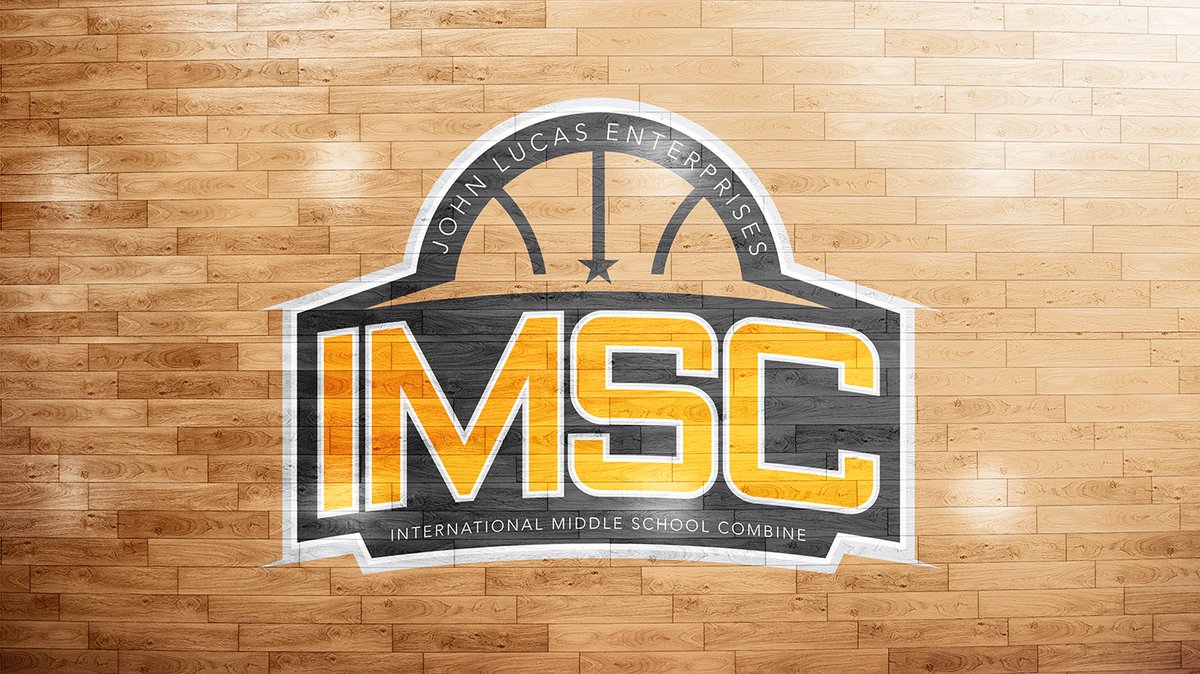 2018 John Lucas International Middle School Combine
By: Darnell Johnson
This was the first year the IMSC was moved to the west coast and I was a great success. There was a high number of high caliber talent this past weekend. The guard play was top notch and there was some very good wing players in attendance. Even though it was based in Las Vegas there was over 26 states represented from as far as Toronto and Florida. It was a great weekend of kids competing at a high level and intensity. Even though the camp was moved from Texas, it was great to still see a high level of support from the state.
Below is just a few of the standout players I witness:
2022Chris Johnson 5'10 G (First Colony) Missouri City, TX
He may have been the most impressive player in camp. He definitely doesn't pass the look test. He's truly a lead guard and plays like it. If wanted to, he can score at will, but he was great at setting his teammates up to also be successful. He has quick feet and a very good court vision. He has a nice stroke and was very consistent at knocking down the mid-range shot.
2022Jordan Williams6'1 F (Kincaid Middle) Houston, TX
This young mans a pit bull and plays downhill. If your in front of him, he will go through you. He plays with a ferocious tenacity. He has a non-stop motor and usually is the most physical player on the court.
2022Trey Miller5'11 G (Our Savior) Houston, TX
He's a point guard that knows how to get buckets. He can score at will, but will set his teammates up and hold them accountable. He has very good handles and I really like his court vision. He has all the tools to be a big time high school point guard next year.
2022Calvin Mader-Clark6'4 F/C(Prairie Star Middle) Overland Park, KS
He's long and skilled. He can post you and finish with either hand, are he can pull you out and go by you. He has a nice stroke and decent handles for his position. He took his station work serious. He showed he's been working on his 3 point shot. It gets better every time I see him.
2022Caleb Burton 6'3 F (Lloyd Middle) Austin, TX
A lefty that can really stroke the ball. He knows how to get buckets and can score in an array of ways. He really likes getting to the cup and finishing. He steadily puts pressure on the defense.
2022Brian Knight 6'2 (Taye Jr) Katy, TX
He has a nice stroke and real smooth game. He didn't take many bad shots and even though he isn't very athletic, he still gets where he wants. He just had a real good feel for the game.
2022 Von Wells 5'11 G(Seabrook MS) El Largo, TX
He's tough as nails and plays hard on both ends. He plays with his feet and hands. He looked at times as the most active player on the court. He definitely impacted the game on both ends.
2022 Zander Baker-Bluitt5'3 G(Homeschool) Edmond, TX
He handled the ball on a string. He was one of the quickest guards from end to end. He has a very nice feel and got his teammates involved. He can stroke it. I like to see him bring the same energy on the defensive end.
2022 Aidan Shaw 6'5 F (Prairie Star MS) Overland Park, KS
He showed flashes this past weekend of what type of player he can be. He runs the floor and has a very good motor. He's most successful around the basket. He needs to work more on his perimeter game. I'm really looking forward to his upside.
2022 Sean-Chris Tresvant 5'7 G (Rosemont Ridge) Portland, OR
I was really impressed with this progress. I haven't seen the young player play in two years. He's playing with so much more confidence and has a swag about himself. He impressed me with his ball handling and decision making, but he really set himself apart on the defensive end. He guarded 94 feet all weekend and made it hard for all the guards he played against, getting the ball up the court.
2022 Cameron Amboree 5'7 G (Briscoe Jr High) Houston, TX
Cam such a camp vet that as a 8th grader could run the camp himself. He's skilled and really knows how to play. He handles the ball on a string and can stroke it from deep.
2022 Dubem Muoneke 6'2 G/F (Hamilton MS) Cypress, TX
Had some of the best energy in the camp. He dominated the glass on both ends. He finished with ease around the basket. He showed he could guard multiple positions.
2022 Tommy Harlan 5'6 G (Annie Wright Middle) Tacoma, WA
I really liked his game. He had a very good confidence. He has mad handles, good court vision and a little swag with himself. He has a quick release on his jumper and showed some deep range.
2022 Ali Brown 5'10 G(Universal Inst Charter) Philadelphia, PA
He's one of those real tough and skilled philly guards. He can handle the ball and he gets to cup at will. I really liked his feel and understanding of the game. He had no problem absorbing contact and finishing.
2022Jameel Brown 6'3 G(The Haverford School) Philadelphia, PA
He's a heck of an athlete. I really liked how he rebounded for a guard. He has decent handles and a nice stroke. He has a nice polish for his game. He plays with a good rhythm.
2022 Devin Carney 5'10 G(Butler High) Pittsburgh, PA
He was by far one of the best shooters of the weekend. Now more impressive then that, it may not have been his best strength. He had no problem putting it on the floor and getting by his man. He was definitely was one of the most polish players at the camp.
2022 Damonz Woods 6'5 F (Bonham MS) Amarillo, TX
He's just one of those players that makes plays. He was always around the ball and showed some real nice potential. He scored easy around the basketball, but didn't show much range. He did a good job showing himself around the basket.
2022 Isaiah Griffin 5'11 G (Patrick School) Union, NJ
A typical New Jersey guard, he attacks and then attacks even more. He plays downhill and most times makes it looks easy getting to the basket. He was also a tenacious defender.
2022 Rory Stewart 6'8 C(St Michaels College) Toronto, CAN
Now this is a big boy. He has tremendous height and width for his age. He showed decent footwork and touch. I liked how he posted and pivoted to get away from the double team. He's very physical and just seemed to move guys out the way.
2022 Xavier Owens 6'3 G/F (Klein MS) Houston, TX
He's a long bouncy athlete. He scores at ease around the basket and his activity is his major strength. He was one of the quickest players from end to end. He finishes above the rim and will put the ball on your head. His game is filling the lane and slashing to the basket.
2022 Chanse Perkins 6'3 F (Homeschool) Spring, TX
This kids progress over the last two years has been remarkable. He's made himself into a legitimated top 100 player in his class. Hes showing now that he can knock down the 3 with confidence, I just hope he doesn't fall in love with it, because being aggressive is his game. He's a tenacious defender and rebounder.
2022 Sterling 'Scoo' Henderson 6' G (McCleskey Middle) Woodstock, GA
He's another guard that handles the ball on a string. He impressed me with his control and being able to attack in traffic. He played on both ends. I like to see him expand range on his jumper.
2022 Justin Monden 5'5 G(Heritage Middle) Raleigh, NC
He's short and quick with a high IQ. He knows how to use his height and seemed to get even lower when he had the ball, which really made it hard to defend him. He plays with a nice pace. He knows when to push it and when to pull it out. He really can stroke the rock.
2022 Devon Wiggins 5'7 G (Brighton Acedemy) Douglasville, GA
He has a real good body that easily absorbs contact and allows him to finish. He has good ball handling skills and stays playing downhill. He's a very physical defender and will guard you 94 feet. I really like his touch from all three levels.
2022 Parrish Johnson 6'3G (KIPP SFA) Atlanta, GA
This young man played five positions at the camp. He ran the team with ease when needed and dominated in the post also at times. I've watched him play over the year and he is a point guard, so I was highly impressed with his attitude when he was ask to play the post. The skies the limit for the young fellas.
2022 Louis-Andre Meffre5'8 G(American International) Lagos, Nigeria
This young man traveled over 20 hours to compete and he did. He has a nice skill set and showed decent range and nice ball handling skills. He must get stronger and work on decisions and that will come.
2022Khalief Crawley 6'6 C(St. Malachy) Philadelphia, PA
He definitely has a very nice upside. He's a tremendous worker in the post. He may not be a great athlete, but he surely makes up for it with hard work. He showed decent footwork and a real nice touch from 15 feet in. He contested a lot of shots on the defensive end.
2022Mohamed Ngom6'10 C (Texas Christian) Houston, TX
This big boy may have the biggest upside in the camp. I really liked this young mans potential. He has nice feet and showed good hands. He contested almost all shots at the rim. He was a consistent scorer around the basket and even knocked down a couple 3's and I mean a couple.
2022Austin Benigni5'9 G (Homeschool) The Woodlands, TX
He's a genuine floor leader. He just seems to make the right and winning play over and over. He plays with a chip on his shoulder and it showed. He has good handles, court vision and fluid jump shot.
2022Dunkan Nguyen5'6 G Seattle, WA
He has a great IQ and feel for the game. His handles are real tight and he has a nice lefty stroke. He plays with great confidence.
2022Aidan Mahaney6' G(Dorris Eaton) Lafayette, CA
Even though he got hurt early the first day, but he still showed flashes of how goohe is. He has a great IQ, sneaky athleticism and can stroke from all three levels. He knocks down the college three with ease. He will be an immediate impact as a freshman in high school.
2022Q Murphy 5'5 G (Bedford MS) Westport, CT
He was one of the most intense players in camp. He can score from deep and can get by you off the dribble. He doesn't let his height deter him. His confidence is his biggest strength.
2023 Elijah Fisher 6'5 F(Crestwood Prep) Oshawa, Ontario
This young fellas oozes talents. He's a great athlete and moves like a greyhound. He's great off the first bounce and maybe the even faster on the second one. He plays way above the rim already. I knew he could score around the basket at will, but he surprised me with the mid-range jumper and even knocked down a few threes.
2023Nahmier Robinson 5'6 G (PLMS) Sammamish, WA
He plays with a whole bunch of confidence and swag. Even though he's a NBA players son, he doesn't act like he's entitled. He was one of the toughest guards in camp. He can get to the cup at will and has a decent jump shot. He's very poised for his age.
2023 Jackson Shelstad 5'8 G (West Linn MS) West Linn, OR
This young man is skilled beyond his years. He always seems to make the right play. Hes cat quick and can shoot lights out. There's nowhere he can't get on the court. He has the ability to be dominant on both ends.
2023Jordan Ross 5'7 G(Lone Peak) Cedar Hills, UT
He showed he can takeover a game when he needs to by rattled off 14 points in a 5 minute period. With that being stead, his real strength is running a team and setting up his teammates. He's real good at just managing a team.
2023 David Delancy6'1 G/F(Franklin Academy) Pembroke Pines, FL
He just knows how to play for a young fella. He made the right play over and over again. He has nice handles, a good feel and a nice consistent mid-range jump shot. He showed he could be a heck of defender when he wanted to.
2023Emmanuel Sharp 6'3 F(Bell Creek Academy) Riverview, FL
He's a big time bully for his age and that's a compliment. He has nice handles for his size and played to his strength. I was impressed by his quick feet and hands. I also was impressed by his shooting ability, he had no problem knocking down the occasional 3 ball.
2023Tyler Ringgold 6'4 FC(LSU Laboratory School) Baton Rouge, LA
He's seems to get better every time I see him play. He has a high level of athleticism for his age. He's making better decision and it shows in his poise. He showed a nice touch from 15 feet in. He does need to get stronger.