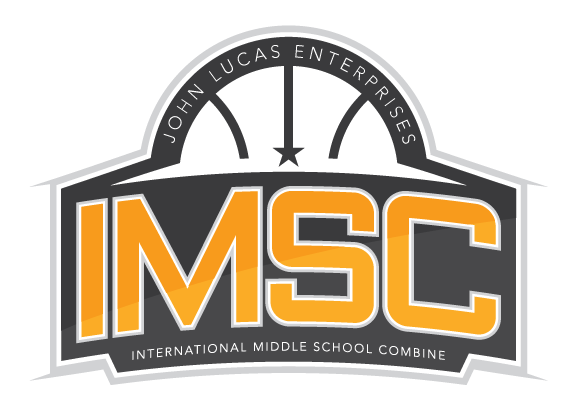 2018 John Lucas International Middle School Combine - Las Vegas
By: Jeff Dosado (Best Coast Basketball)
This year's John Lucas International Middle School Combine had an impressive overall display of 7th & 8th grade talent combined with athleticism and size.
Take a look below at our notable prospects based on their performance at the camp:
Elijah Fisher 6'5 Forward 2023 - Oshawa, Ontario
Elijah showed why he's considered to be one of, if not the top player in the 7th grade/2023 class. His combination of size, athleticism and skill. He consistently impacted the game on both ends blocking shots, rebounding and then leading the break in a hurry. Has both the ability to put the ball on the floor and attack the rim, and showed some very nice footwork with his back to the basket, but was at his best in the open court. Talent and upside was unquestionable, but he did tend to coast sometimes both in the skill work and in games.
Emmanuel Sharp 6'3 Guard 2022 - Riverview, FL
Aggressive wing player with size. Knows how to use his size and strength when needed. Without even having to take stats, you know that he fills up that box score. Scored in a variety of ways, off the dribble, catching and shooting from deep. Rebounded the ball well on both ends, blocked shots, and made plays; he did it all this weekend. Would like to see him work on his body and improve his conditioning; if/when that happens, watch out.
Mohamed Ngom 6'9 Forward 2022 - Houston, TX
Great size, length and athleticism. Rebounded the ball & blocked shots all weekend. Still quite raw, but runs the floor extremely well. Loved his overall demeanor and willingness to learn. Was very attentive in the skill work and truly showed how much he enjoys to play. A lot of upside here.
Jackson Shelstad 5'8 Point Guard 2023 - West Linn, OR
Point guard that can really get up and down the floor in a hurry. Changes speeds well and is very shifty making it very difficult to stay in front of, especially in the open court. Also has the ability to make shots from 3 consistently whether off the catch or off the bounce. I've seen the kid really develop over the years and his progress isn't surprising, but would really like to see him be more of a vocal leader and get after it more on the defensive end like I know he's capable of.
Camron Amboree 5'7 Point Guard 2022 - Houston, TX
Not a great athlete, but uses his basketball IQ and change of speed to get by the defense to make plays for others or to get his own. Has a great feel and the type of player you'd want to run your team. Also has flare to his game; no look passes, and NBA 3's off the dribble are a usual thing for Cam. You can tell he really loves to compete when he's challenged, but also tends to coast when he feels he isn't. I've been seeing the kid for a long time now and I'd like to see him play with that consistent motor all the time.
Ali Brown 5'10 Point Guard 2022 - Philadelphia, PA
Foul line to foul line, might have been one of the fastest guards in the camp. Difficult cover in the open court and not too many players stayed in front of him. Don't remember him taking many shots, but did a great job finishing or getting fouled once he got you on his hip.
Dubem Muoneke 6'2 Forward 2022 - Cypress, TX
Still quite raw on the perimeter, but flourished on the break. Extremely good athlete that rebounds the ball very well, runs the floor hard and finishes above the rim.
Trey Pettigrew 5'10 Point Guard 2022 - Lisle, IL
Very fast and shifty lead guard, but despite his speed, played under control. Very good feel for the game and consistently made his teammates better and also made shots to keep the defense honest.
Trey Miller 5'11 Point Guard 2022 - Houston, TX
One of the few guards that I've seen in a long time with a very effective in between game. Didn't try to do too much, and made the right decisions without turning it over.
Adam Stewart 6'9 Center 2022 - Houston, TX
Your traditional back to the basket center. Very good size and length. Rebounded the ball well because of his sheer size mainly. Not a good athlete, but displayed solid footwork being able to score mainly over his left shoulder. Good motor and competed all weekend.
Sterling Henderson 6'0 Guard 2022 - Woodstock, GA
Athletic Point Guard with a good frame. Handled the ball well in both the open court and in tight spaces. Was able to get to the basket and finish through contact. Very good body control.
Jordan Williams 6'1 Guard 2022 - Houston, TX
Great body might be an understatement for this young man. Very physical and doesn't mind mixing it up with taller players. Was at his best attacking the basket and finishing through contact.He's come a long way and has noticeably developed his game.
Jameel Brown 6'3 Guard 2022 - Philadelphia, PA
Really liked Jameel's game. Good athlete, long frame. Handles it well enough to play the point. Also made plays for others. Just a really good feel for the game. Very versatile and did a little of everything throughout the weekend. He might have played a little too unselfishly and would have liked to see him be more assertive.
Rory Stewart 6'8 Forward 2022 - Toronto, Ontario
Really liked what I saw from Rory. Very skilled forward with a solid frame that has a great feel and knows how to play. Was most effective with his back to the basket and used his strength to overpower smaller defenders or his footwork to convert against longer, more athletic defenders. Was also effective facing up making shots up to 15 feet and making scoring passes to fellow teammates cutting to the basket. Had some difficulty keeping up with the pace getting up and down the floor, but clearly impacted the game on both ends filling up the stat sheet.
Isaiah Griffin 5'11 Point Guard 2022 - Union, NJ
Point Guard that changes speeds extremely well. Played with a lot of poise; liked how he was constantly directing traffic in the half court and made plays for others. Was able to get to spots, but didn't shoot it particularly well over the weekend, but it seems as though the mid-range area is where he's most comfortable operating.
Trey Cheatham 6'3 Guard 2022 - Plano, TX
Athletic guard with good frame and length. A little rigid when handling the ball. Didn't shoot it very well, but was very productive when attacking the basket. Used his athleticism to finish consistently, and if he didn't finish, it normally ended up as a foul.
Chanse Perkins 6'3 Forward 2022 - Spring, TX
Has improved significantly over time and has become more comfortable out on the perimeter. Rebounded the ball quite well and had no problem being physical with others or hitting the floor for loose balls. Still a little rigid, but was very effective attacking the basket and finishing. Good motor.
Other notable campers:
Bowen Hardman 6'3 Guard 2022 - Cincinnati, OH
Caleb Burton 6'3 Guard 2022 - Austin, TX
George Washington III 5'8 Point Guard 2023 - Spicewood, TX
Damonze Woods 6'5 Forward 2022 - Amarillo, TX
Alex Argandar 6'0 Point Guard 2022 - Modesto, CA
Kaleem Moultrie 6'2 Guard 2022 - Philadelphia, PA
Evan Boyd 6'2 Guard 2022 - Minneapolis, MN
Sean Tresvant 2023 5'7 Point Guard - Portland, OR
Zander Baker Bluitt 5'3 Guard 2022 - Edmond, OK