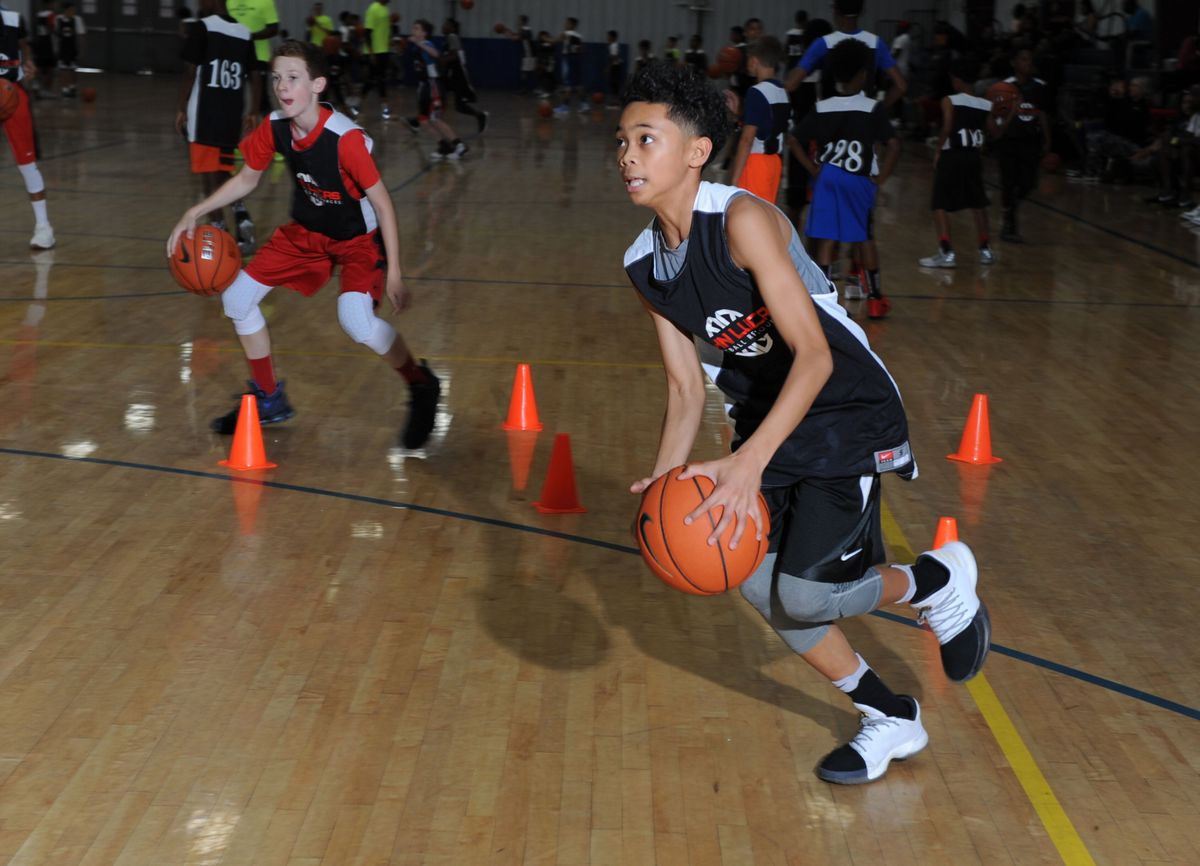 John Lucas Enterprises - Future of the Game Vegas
May 16, 2017
PLAYER EVALUATIONS
By: Ben Perkins
Richard Barron III (2023/W/5'7/120/Chicago, IL) - Strong wing who used his body well attacking and finishing around the rim. Was really active all camp and consistently shot it well off the catch from the perimeter.
Maverick Binder (2023/G/4'8/95/Table Rock, NE) - Aggressive, crafty point guard who was productive all weekend. Displayed very good court vision and leadership. Has a nice stroke from all levels. Showed the ability to create shots for himself off the dribble anytime he needed.
Jacovey Campbell (2023/G/5'0/85/McKinney, TX) - Speedy point guard that lived in the paint. Established himself as a pass-first guard who also showed great tempo and feel finishing in traffic. Really controlled the game with his play. One of the best small guards in camp.
David Delancy (2023/G/5'11/135/Pembroke Pines, FL) - Clearly one of the most natural athletes in camp. In certain spots, was the most the dominant and productive player without question. Strong handle and body with good court vision who finished and rebounded well in traffic. At times appeared bored on the court, and as he learns to keep his motor going from start to finish, he can be a very impactful prospect.
Zach Fluellen (2023/W/5'6/110/Frisco, TX) - Played with excellent energy and was aggressive all camp. Consistently made good decisions each game. Really impressed on day two with his lights-out shooting. Has a very nice upside.
Elijah Gaeth (2024/G/5'2/85/Omaha, NE) - Crafty guard who played with confidence. Possesses a complete all-around game for the position. Displayed a quick release that forced defenders to find him at all times.
Jaden Goodall (2023/G/5'6/95/Yorba Linda, CA) - Nice IQ and played with a good feel for the game. Active rebounder and showed good vision. Did a nice job knocking down threes on day two. Very consistent throughout the camp.
Josh Goodall (2023/G/5'9/110/Yorba Linda, CA) - Caught my attention with his defensive rebounding and leading the break in transition. Made great choices when finding teammates or finishing it himself in traffic.
Staci'o Goree (2023/G/5'7/110/Phoenix, AZ) - Strong, fast guard that showed nice athleticism. Displayed good handle, at times got a little wild, but always made up for any errors with his hard work and effort.
Nick Gray (2023/G/5'8/125/Durham, NC) - Was the ideal teammate throughout the camp. Consistently did all of the little important things to help his team. Finished well around the basket. Defensively, he protected the rim at all times and did a good job rebounding out of his area.
Ky Green (2023/W/6'1/140/Peoria, IL) - Long, athletic player with huge upside who rebounds at a high rate on both ends. Pushed the ball in transition efficiently off defensive rebounds and made terrific decisions, finding the open teammate or finishing himself. Showed a good feel for posting up in the half court and finished through contact.
Tyler Harris (2023/G/5'9/110) - Really attractive prospect on both ends of the floor. Consistently rebounded in traffic and finished well with contact. On day two showed nice touch on his jumper out to 15 feet.
Luke Haugo (2024/G/5'3/90/Phoenix, AZ) - Excellent shooter off the catch who made a high percentage of his shots on both days. Always shot with good balance and pace, and utilized his shot fake to consistently attack the paint and make plays when defenders closed out.
Eian Lowe (2024/G/4'6/80/Houston, TX) - One of the most fearless, hardest working players all camp. Constantly caught my attention with his speed and energy, as he grows in stature will become a very productive player.
Jaland Lowe (2023/G/5'4/100/Houston, TX) - Was a great floor leader. Showed the ability to consistently get his team organized and find the open teammate. Plays with a very high IQ. As each game progressed, he played with great balance, getting to the paint and finishing or finding the open teammate for. Really made the game appear easy.
AJ Marsh (2023/G/4'8/90/Tolleson, AZ) - Fiery competitor that played with his emotions on his sleeve. No one could ever question his desire to win watching him play. Streaky shooting from three, but never gave up on either end of the floor. Really enjoyed watching the emotion he brought to each minute of play.
Amir McMillian (2023/G/5'1/105/Albuquerque, NM) - Strong, shifty guard that is very aggressive and finished well. Showed the ability to knock down the three. As he continues to mature and play more efficiently he has the tools to be a dominant playmaker.
Utillo Morris (2024/G/5'2/100/Eugene, OR) - Played with a very high intensity all camp. Has no problem finishing through contact. On Day 2, he flashed the ability to knock down threes, which made him difficult to handle all day.
Calvin Murphy III (2024/G/4'11/75/Rchmond, TX) - Displayed consistency all weekend. Attacked the paint and finished with his floater or found teammates when he forced the defense to rotate. Improved as a vocal leader each game as things progressed.
Esyah Pippa-White (2023/G/5'6/95/Portland, OR) - Strong, confident guard that never backed down from a match-up. Handled pressure very well and played with high tempo, but rarely got hurried into bad decisions. Showed the ability to knock down shots consistently off the dribble. His range really stretched the defense and made defenders stay honest.
Landon Schumaker (2023/F/5'11/125/Gilbert, AZ) - Showed great footwork with his moves around the basket. Rebounded very aggressively on both ends. Showed very good timing and vision in traffic and consistently made the right reads. Was one of the most consistent players on Day 1.
Ernest Smith (2023/G/5'5/110/Cordova, TN) - He was everywhere on day 1! He excelled in transition, finishing and finding teammates. Showed the ability to rebound at a high rate for a wing. Defensively, he was very active in the passing lanes getting steals and forcing turnovers. He played with one of the best motors in camp.
George Washington III (2023/G/5'5/105/Round Rock, TX) - Smooth guard with good vision who has big-time upside. Showed that he has the tools to be an elite shooter with a nice-looking stroke that was efficient off the catch from three and mid-range. He proved he can consistently create space for himself off the dribble, getting great looks whenever he needed.