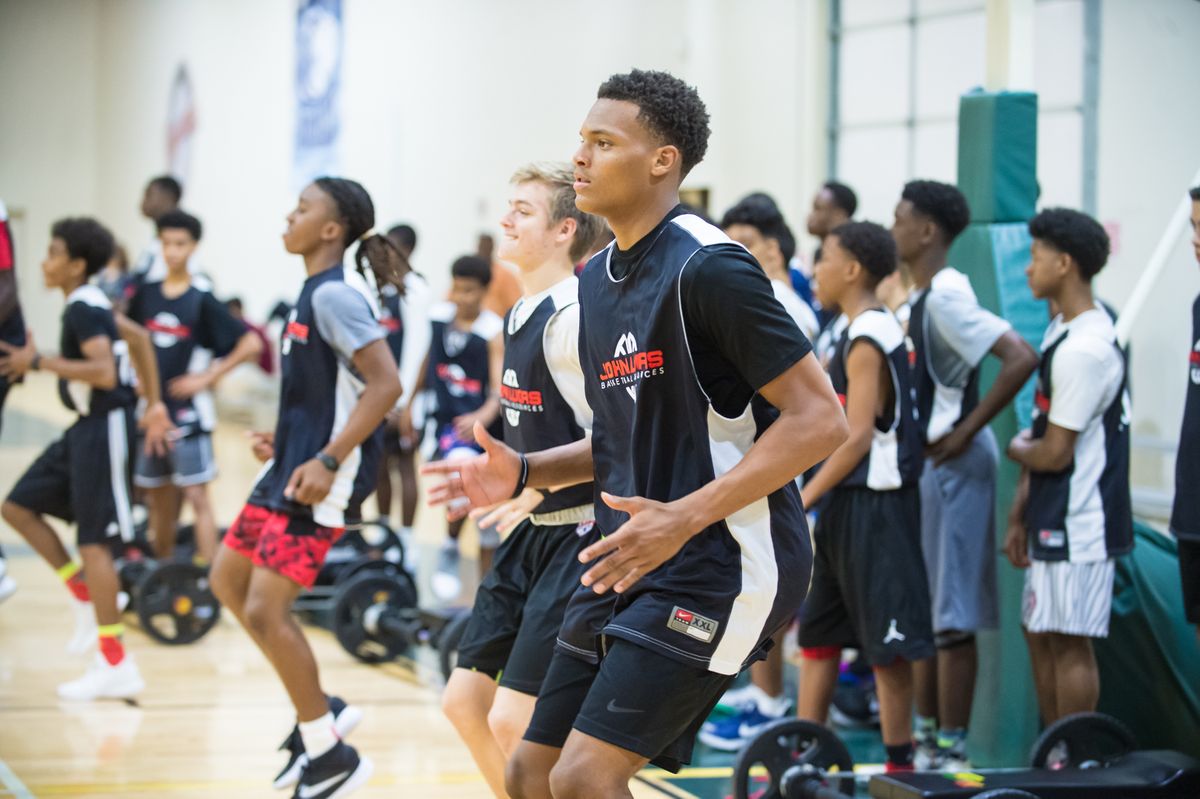 John Lucas Enterprises - International Middle School Combine
May 8, 2017
PLAYER EVALUATIONS
John Lucas Enterprises held its signature annual event this weekend as International Middle School Combine returned to Legends Sports Complex in The Woodlands, Texas. As usual, many of the best 7th and 8th graders from across the country were in attendance, and Top100Talent.com was honored to cover the camp alongside distinguished national media. Below are evaluations of the best talent I witnessed over the weekend, listed in alphabetical order.
TOP TEN
Jalen Blackmon (2021/G/6'1/145/Fort Wayne, IN) - The latest star from a family of hoopers, he first caught my eye at John Lucas All-Star Weekend 2016 where he had several scoring outbursts. Can really shoot the ball and displayed as much range as anyone at IMSC, and also looked smooth around the rim, whether finishing or distributing to teammates.
Pape Cisse (2021/F/6'9/170/Anaheim, CA) - Lefty possessed the most complete package of all the bigs at camp. Great motor, excellent effort defensively, ran the floor end-to-end. Can face up and make one-dribble moves attacking the rim, and knocked down a couple of mid-range jumpers as well. Still has a ton of room to improve, but looks like a future star.
Keon Edwards (2021/W/6'5/180/Pasadena, TX) - Injured his ankle early on Sunday, but showed on Saturday that he has the potential to be among the best wing scorers in the class nationally. His handle and perimeter jumper are on the improve, and his length causes problems on the defensive end. Gives great effort on both ends, a ton of upside here.
Bryce Griggs (2022/G/6'0/160/Lake Jackson, TX) - Proved all weekend that he can compete with the best 2021s at camp, it was fun to see him perform against opposition as talented as he is. When his outside jumper is falling, as it was on a few occasions, he is nearly impossible to stop. Hope to see him playing at the 14U and maybe even 15U level this summer.
William Jeffress (2021/W/6'5/180/Erie, PA) - Strong, skilled wing was touted by many as one to watch and did not disappoint, getting buckets from all three levels against some of the biggest names at IMSC. Repeatedly got to the rim from the top of the key, and was dominant in fast-break scenarios. I thought he was the MVP of the camp.
Jackie Johnson III (2021/G/5'10/165/Wichita, KS) - Doubled down on his excellent performance at All-Star Weekend 2017 by dominating IMSC. A fierce competitor who uses a combination of strength and handle to get to the rim at will, and can pour in NBA threes at a high rate. His battles with Daeshun Ruffin and Bryce Griggs were the highlights of the camp.
Johnathan Lawson (2021/W/6'6/130/Memphis, TN) - Another from a big-time basketball family, this long, lanky wing is going to become a unique weapon offensively as he matures and gets stronger. His length allows him to make contested shots and convert finishes at the rim, especially in transition. Is among those at IMSC with the highest long-term ceilings.
Manny Obaseki (2021/G/6'1/160/Allen, TX) - Biggest athletic freak at the camp showed that he can also handle it well, make some outside jumpers, and play unselfishly. Going to give us many highlight-reel dunks and chase-down blocks over the next few years, but proved this weekend that he is much more than just a leaper.
Daeshun Ruffin (2021/G/5'9/130/Jackson, MS) - Another who shined at All-Star Weekend 2017 and returned to dazzle the onlookers at IMSC. Fits a similar profile to Johnson, but has a smaller frame and a more flashy handle. Possesses elite toughness and competitive spirit, and is capable of getting himself or a teammate a bucket from anywhere on the court.
Carter Whitt (2021/G/6'1/160/Raleigh, NC) - Has grown up a bunch since I saw him here last year, is much longer and more athletic with a noticeable burst around the rim. Plays with a calm, confident demeanor and once again showed that he has unbelievable court vision for this age group, regularly making advanced passes look easy.
BEST OF THE REST
Christian Bento (2021/F/6'11/195/Temecula, CA) - Tallest kid in gym made big impact on defensive end, still raw offensively.
Jalen Breazeale (2021/G/5'8/130/Mauldin, SC) - Ultra-competitive speedster was a standout both in the drills and during games.
Pierre Brooks (2021/W/6'4/170/Detroit, MI) - Among the most productive two-way players at the event, regardless of position.
Ryan Conway (2021/G/6'1/170/Lutherville, MD) - Scorer has long been a top national name and had another big weekend at IMSC.
Reuben Fatheree (2021/F/6'8/280/Richmond, TX) - Complete skill set stood out against a group of bigs with a ton of work to do.
Legends Geeter (2021/W/6'4/205/Detroit, MI) - Used strong frame and nice handle for position to attack basket and score inside.
Dallin Grant (2021/W/6'5/165/Cedar City, UT) - Showed off a polished skill set and scored it well at all three levels on both days.
Taylor Hendricks (2022/W/6'3/130/Fort Lauderdale, FL) - Long arms and legs, good motor on this raw prospect with big upside.
Johnathan Izemef (2021/F/6'9/190/Jacksonville, FL) - Great defender with big-time motor. Good footwork helps him score inside.
Langston Love (2021/G/6'3/180/San Antonio, TX) - Big-bodied guard got buckets as usual and used his length well defensively.
Jalen Knox (2022/G/6'3/180/Baton Rouge, LA) - Among very best of 2022 group, combination of big body and nice feel stood out.
Noah Kon (2021/G/6'0/150/Sugar Land, TX) - Playmaker is tough to keep out of the paint, has become more explosive recently.
Mason Manning (2021/G/5'10/120/Jackson, MS) - Showed off a ton of moves, equally effective scoring and making plays for others.
Bretner Mutombo (2021/F/6'8/185/Jacksonville, FL) - Another big who gives great effort on both ends but needs work offensively.
Latrell Neville (2021/W/6'4/170/Bellaire, TX) - Big-time athlete is still raw in some areas but has improved a ton over the past year.
Mouhamed Ngom (2022/F/6'9/210/San Antonio, TX) - Held his own against 2021 bigs, ran floor well, still limited offensively.
Cameron Oliver (2021/G/6'1/145/Richmond, TX) - Scored it well from all three levels and created open looks for teammates.
Samuel Onu (2021/F/6'10/210/San Antonio, TX) - Loved his intensity, looked to block and dunk everything, bright future here.
Madison Peaster (2021/G/6'2/160/Little Rock, AR) - Strong and athletic, effects the game on both ends and knows how to score.
Duncan Powell (2021/W/6'6/205/DeSoto, TX) - Hampered some by injury, but this top-notch wing still made his presence felt.
Gabriel Quiette (2022/G/6'1/150/Fullerton, CA) - Combination of size and skill at position makes him one to watch going forward.
Juan Reyna (2021/G/6'1/170/San Antonio, TX) - One of the best shooters in camp, caught my eye with several terrific passes.
Noah Robledo (2021/W/6'4/150/Leander, TX) - Glue guy made a ton of plays on both ends for one of the best teams at camp.
Rayven Turner (2021/W/6'4/150/Vancouver, WA) - Another strong, well-built wing who made plays on offense and defense.
Joseph Venzant (2021/G/6'1/155/Midland, TX) - Best rebounding guard I saw at IMSC, can score the ball in a variety of ways.