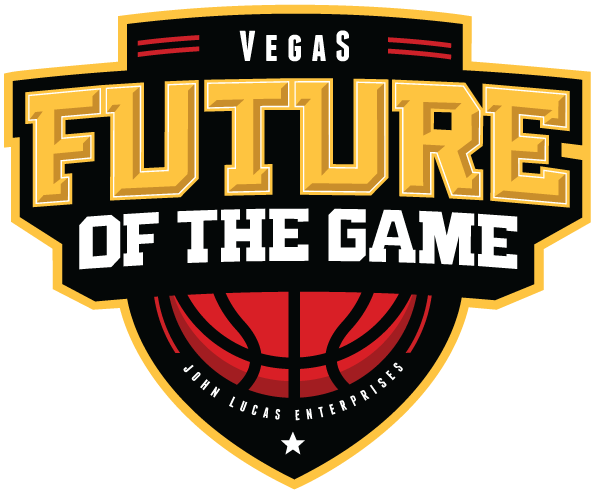 Mason Brown, Kasen Krueger, & Alijah Arenas Dominate at this Year's John Lucas Future of the Game-Las Vegas
Published on May 8, 2018 by Clark Francis
After the dust had cleared at the 2018 John Lucas Future of the Game - Las Vegas, which was held over the weekend at the Tarkanian Center in Las Vegas, NV and featured some of the top up-and-coming 5th and 6th Graders in the nation, it was pretty obvious that 5'3 6th Grader Mason Brown from Las Vegas, NV, 5'6 6th Grader Kasen Krueger from Alamo, CA, and 5'2 4th Grader Alijah Arenas from Porter Ranch, CA were the three best players in camp. Brown gets the nod as the top dog and what he does best is use his quickness with the ball and explosiveness in transition to get the basket and score. He also has the ball handling and passing skills necessary to play the point guard spot and he likes to have the ball in his hands, but he's still more of a scorer than a facilitator. He's also more of a slasher than a shooter and his athleticism, nose for the ball, and competitive edge make him a dominant force at both ends of the court.
Krueger was arguably the most versatile player in camp, as is evident by the fact that there were times when he was called upon to be both the point guard and the center on his team. Not only does he have good ball handling and passing skills, rebounds extremely well for his size, is capable of scoring in a variety of ways, and is surprisingly agile, mobile, and coordinated, but he also is very unselfish and is still just only beginning to scratch the surface in terms of reaching his upside and potential. Arenas has super quick hands and feet, which helps make him an excellent defender, plus he is explosive to the rim, has a soft touch on his jump shot, rebounds extremely well for his size, can play multiple positions, and has good court awareness. He also showed that he has the court savvy and maturity necessary to get it done while playing against guys who are one and two years older and, terms of upside and potential, his is off the chart.
The best pure point guard in camp was 5'6 5th Grader Anthony Smith from Minneapolis, MN and he provided to the perfect complement in the backcourt to 5'0 6th Grader Trae Herrera from Hutto TX, who was one of the most prolific scorers in camp. Smith also impressed us with ball handling and passing skills, understanding of the how to play the game and make his teammates better, and ability to both get to the rim and keep opponents honest with his ability to knock down the outside shot. Herrera also has good ball handling and passing skills, but he is at his best when he is using his speed and quickness to get to rim and he's not afraid to pull the trigger when it comes time to knock down the outside shot. And, of course, there also was 5'2 5th Grader Triston McDonald from Atlanta, GA, who is a quick little point guard with good ball handing and passing skills and the ability to both get his teammates involved and use his explosiveness in transition to attack the basket.
It also was difficult not to be intrigued with the upside and potential and athleticism of 5'6 6th Grader Darien Luke from Oklahoma City, OK Right now he's still very raw, needs strength, and has trouble finishing and finding ways to score. However, he does run the court extremely well, is very active on the boards, and there is no telling how much more he is going to grow. In sharp contrast, 5'8 6th Grader Charles Biegel from Kihei, HI was one of the most skilled players in camp. He will need to get bigger and stronger physically and finish better, but he has great hands and tremendous length, which allowed him to get a lot of rebounds and put-backs. He also knows how to pass out of the post, is versatile enough to play both inside and outside, and is only just beginning to scratch the surface in terms of his growth and potential. We also thought 5'2 6th Grader Jaylen Wheeler from Vallejo, CA had a good combination of skills and athleticism, a knack for making things happen in the open court, and good moves to the basket. However, he also had a tendency to over handle and we would have liked him better if he did a better job of getting his teammates involved.
Ditto that with regard to 5'6 6th Grader Aaron Powell from Altadena, CA, who was one of the best athletes and most talented players in camp, but spent too much time out on the perimeter, cherry picking, and bringing the ball up the court. On the other hand, 5'2 5th Grader Marcus McDonald from Gilbert, AZ was one of our favorite players in camp, because he is very good at using his speed and quickness to be a pest on defense and is excellent attacking the basket. We also don't want to forget about 5'4 4th Grader Brennan White from Madisonville, LA, because he was arguably the biggest overachiever in camp. Not only did he knock down more than his share of outside shots, but he played with a reckless abandon, has deceptive athleticism and good body control, and he seemed to gain confidence and get better and better as the camp wore on.
And, when we dig a little deeper, we also would put guys like 4'11 6th Grader Lofton Wigington from Chatsworth, CA, 5'0 5th Grader Jovan Yapi from Las Vegas, NV, 5'1 5th Grader Romeil Carter from Dallas, TX, 5'1 5th Grader from Tremmell Darden from Las Vegas, NV, 4'8 5th Grader Anthony Leonard from Oklahoma City, OK, 5'2 6th Grader Kaden Moulton from Beach Park, IL, 4'6 5th Grader Langston Adams from Port Arthur, TX, 5'1 5th Grader Aaron Banks from Valencia, CA, 5'0 6th Grader Ross Ingram from Henderson, TX, 5'0 6th Grader M.J. Yeager from Saginaw, MI, 5'0 6th Grader Donny Yeager from Saginaw, MI, 5'7 6th Grader Charlie Georgelos from Boerne, TX, and 5'0 6th Grader Keyvon Reddick from Palmetto, FL all fell into the camp's 13-25 range.
Our list of the "Best of the Rest" in camp includes 5'1 6th Grader Peyton Gonzales from Rowlett, TX, 5'2 6th Grader Marcel Pace from Tucson, AZ, 5'4 5th Grader Ian Parham from Houston, TX, 5'0 6th Grader Aiden Hines from Castle Rock, CO, 4'8 5th Grader Quinn De Groot from The Woodlands, TX, 5'0 6th Grader G.J. Graham from Gilbert, AZ, 5'2 5th Grader Jaden Perez from Lubbock, TX, 5'3 5th Grader Cullen Schreiner from Chandler, AZ, 5'1 5th Grader Tres Luzey from The Woodlands (H.S.) TX, 5'0 5th Grader Jonathan Collins from Las Vegas, NV. 4'9 5th Grader Dennis Guams from France, 4'8 5th Grader Mason Douglas from Gambrills, MD, 4'11 6th Grader Geoffrey Varner from Mitchellville, MD, 4'9 4th Grader Morgan Luzey from The Woodlands, TX, 5'0 6th Grader Peter Tanevski from Sydney, NSW, 5'1 5th Grader Khai Brown from Oklahoma City, OK, 5'3 5th Grader Shyam Patel from Richmond, TX, 5'0 6th Grader Breyden Tachera from Las Vegas, NV, 5'0 5th Grader Jaden Nartey from Edmond, OK, 4'10 5th Grader Domaunique Stephens from Oklahoma City, OK, 4'9 6th Grader Carmelo Hearn from Peoria, IL, 4'9 6th Grader Gabriel Buksh from Sierra Vista, AZ, 4'6 4th Grader Chase Graham from White Plains, NY, 4'7 4th Grader Roman Duran from Westminter, CO, and 5'3 6th Grader William Henry from Hereford, AZ