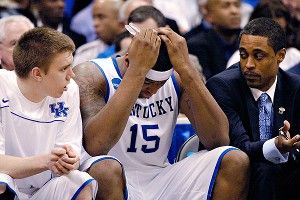 John Lucas offers the gift of a lifetime
written by: Jason King | ESPN.com
HOUSTON - Shortly after he was freed from jail, Kentucky assistant Rod Strickland retrieved his cell phone from police officers and sent a two-word text message to Wildcats coach John Calipari.
"I'm done," it read.
Hours earlier - just short of 3 a.m. on April 12, 2010 - Strickland was pulled over after running a red light and nearly hitting another vehicle a few miles from UK's campus. The smell of alcohol still on his breath, Strickland could hardly remember bumbling through the ABCs, attempting to balance on one leg or being escorted to a police car amid the glare of flashing red lights.
But he certainly felt the shame as he sobered up later that morning, when word began to spread that the former NBA All-Star had been arrested and charged with DUI for the fourth time.
Staring at the walls of his cell, Strickland thought about the people he'd disappointed. His wife, his children, the Kentucky fans who hugged him and asked for autographs when he arrived on campus a year earlier, the coach who had stood behind him so many times before.
So embarrassed was Strickland that he didn't even want to speak with Calipari, much less face him. So after he posted bond he sent his boss the text, essentially resigning before he was fired.
Calipari would have none of it.
"Handle your business and we'll work it out," Calipari wrote back. "Just do what you have to do to get better."
Strickland knew exactly what that entailed. The following morning he went to the airport, flew to Houston and didn't return for three months.
John Lucas wouldn't let him.
"That man changed my life," Strickland says three years later. "John Lucas changed my life."
For more than two decades now, John Lucas' Houston-based treatment program has gained national acclaim for helping athletes and coaches who have steered off path.
A former NBA star whose career was nearly derailed by substance abuse, Lucas has gained most of his fame for his attempts to rehabilitate sports figures struggling with drugs and alcohol.
Tyrann "Honey Badger" Mathieu sought help from Lucas last fall following his dismissal from LSU's football team for repeated marijuana use. Lucas also has counseled college basketball coaches such as Strickland, Larry Eustachy and Billy Gillispie about issues relating to alcohol.
Lucas' program, however, isn't limited to people with chemical addictions.
After he was cut by the Washington Wizards last summer because of poor conditioning and work ethic, Andray Blatche spent three months in Houston, where Lucas helped him lose 20 pounds and regain focus. Former San Diego guard Brandon Johnson, one of the key figures in a point-shaving case at his alma mater, is working out at Lucas' gym this month along with ex-LSU point guard Tack Minor, who is having trouble catching on with a team overseas because he's also 20 pounds overweight.
While the program may seem like a haven for wayward souls, even athletes with no apparent off-court issues make pilgrimages each year to work out with Lucas, who also runs camps across the country for the nation's top high school prospects and prepares college stars each year for the NBA draft.
Blake Griffin, Kobe Bryant, LeBron James and scores of others have sought out Lucas' tutelage. Former All-Star Baron Davis once likened Lucas' wellness program to a health spa, where players go to cleanse their minds and rejuvenate their spirits - all while being screamed at and prodded by Lucas, who spent six seasons as an NBA head coach.
People respect Lucas because he tells them what they need to hear - not what they want to hear.
"It's like a truth serum," Strickland says.
Eustachy agrees.
"He might be the smartest man I know," says the Colorado State head coach. "He's got his hand in so many things. His only issue is that he can't say no to anyone. He's too generous. It's a problem I wish everyone had."
Basketball coach, father figure, psychologist, counselor, friend. Lucas' role differs by the hour, but his goal is always the same.
"I'm competitive," said the 59-year-old Lucas. When these guys succeed on the court, it makes me feel good. And as far as the ones who are in the recovery program. I want them to have this gift that I got years ago.
"I call it the gift of desperation."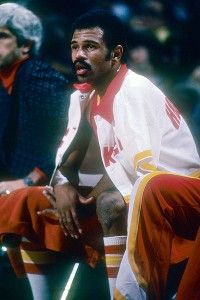 When he awoke on the evening of March 12, 1986, John Lucas was soaked in his own urine. One night earlier, the Houston Rockets' point guard had scored 20 points and dished out nine assists against the Boston Celtics, but now he was in a shady section of Houston, wearing a suit, five pairs of socks and no shoes.
"I had on sunglasses, too," Lucas says now. "Just trying to be unrecognizable."
Earlier in the day, while his teammates were at practice, Lucas had passed out after consuming alcohol and snorting cocaine. He was drug-tested when he returned to the arena the following day and then watched from the bench as the Rockets beat the Portland Trail Blazer that night.
"The worst part," Lucas says, "was sitting there in front of 15,000 people, knowing what was next."
Indeed, Lucas' drug test came back positive. Again.
"No more second chances," coach Bill Fitch told Lucas the next morning. "You're done."
Only he wasn't. Instead of floundering in the face of adversity, Lucas found a way to flourish.
Admitting he had a problem, the former No. 1 pick in the NBA draft checked himself into a Houston rehab facility. Lucas sobered up, returned to the court the following season with the Milwaukee Bucks and averaged a career-high 17.5 points.
By the time he retired in 1990 - ranking 10th on the league's all-time assists list - Lucas already had his sights set on a new venture. He founded a treatment program and began counseling and mentoring athletes who were having some of the same substance abuse issues that he'd been able to conquer.
Year after year, more and more athletes flocked to Houston to see Lucas. Some were high-profile football players such as Dexter Manley and JaMarcus Russell. Others were high school hoops stars or Division II assistant coaches. Lucas didn't discriminate.
He even purchased a USBL basketball team and stocked the roster with players in need of a second chance. When he became an NBA head coach, Lucas was forced to sell his foundation to Right Step, a chain of in-patient treatment facilities throughout Texas. But even then, he signed on as a consultant with the company and has served as an adviser ever since.
"When people come to see me, I'm usually the last house on the block," Lucas says. "I'm the last stop on the escalator." Everyone has told them, 'Lucas is hard. You're going to work. It's a full day. He doesn't treat anyone any different. It ain't going to be easy.'
"I cut through all the bulls-. If you don't do what I'm telling you to do, you don't have the gift of desperation."
Sports figures seeking treatment for substance abuse must surrender their car keys and cell phones to Lucas for 10 days. Then he drives them to Right Step, an apartment-like facility in a middle-class area of Houston.
Millionaire coaches and athletes who are accustomed to sleeping in five-star hotels spend their nights in narrow twin beds. The tile on some of the floors is chipped and posters featuring Bible verses and "The 12 Steps to Serenity" are the only things hanging from the walls.
A worn-down basketball goal, with a backboard that slants forward, is in the courtyard near a wrought iron table, where a box of dominoes rests near an ashtray. Gillispie, the former Kentucky coach, stayed here two summers ago. Last year, the 6-foot-10, 330-pound Renardo Sidney of Mississippi State slept in one of those tiny beds.
Most of the people Lucas sends to Right Step stay 30 days before transitioning to outpatient care for two months.
"People tease me and say, 'Hey man, this place is no better than Sanford and Son's,'" Lucas says. "That's by design. Why should you be going to a plush place like the Four Seasons? You were already in one, and it obviously didn't do you any good. Otherwise you wouldn't be here seeing me."
Mentoring athletes and coaches who have experienced success at the highest level isn't easy, Lucas says. They may appear big and powerful and intimidating, but inside many are fragile and lack confidence.
"You say 'boo' and they'll run," Lucas chuckles.
Lucas' ability to relate to relate to those types of personalities is what makes him so successful. He said the first thing he does when someone shows up for treatment is apply the "Eminem Theory." He's referring to the famous rapper who has a popular song called, "Cleanin' Out My Closet."
"People let me into their closet," Lucas says. "I get to go into the bedroom instead of sitting in the living room and listening to all that artificial stuff. I need to know what I'm dealing with.
"I ask guys right at the beginning, 'What is your secret? What are you scared of? What is it that keeps you up late at night? Take that mask off and let me see who you really are.'"
Lucas said some athletes are hesitant to share those sort of feelings with their college or pro coach because they're scared that what they say may be used against them. With Lucas, they can be honest.
"Sometimes you need an outside source to bring out those emotions," he says. "Most guys will break down and tell me everything. They'll say, 'Coach, I'll do whatever you want me to do.' That shows me they truly want to change. It shows me they have the gift of desperation."
One example is Strickland, who spent 17 years in the NBA - where he played against Lucas - before becoming an assistant for Calipari at Memphis and Kentucky.
Strickland never considered himself an alcoholic. He wasn't the type to drink alone or secretly. If anything, he was addicted to a lifestyle, not a chemical.
"I drank for years," Strickland says. "When I went out with my dudes, that's what we did. We drank. Obviously, I over-indulged more than others.
"That last [DUI], I couldn't get it out of my mind that I almost hit somebody, that I could've killed somebody. I thought about me going to jail and my kids not having me there. Those are things I keep in my belly to this day. I felt like I had had my nine lives and now I was on my 10th. I thought, 'What's next after this one?'"
Before he arrived in Houston, Strickland said he had always been quiet and reserved. He didn't talk a lot, he said, because he didn't trust people. But all of a sudden here he was, sharing stories with other residents of Right Step. Teenagers and businessmen, poor people and wealthy ones. Each time the group gathered for a meeting or to listen to a speaker, Strickland felt more and more comfortable opening up.
"Some people had different issues," Strickland says. "Some had done more than others. But at the end of the day, there was a common ground. We were all trying to help each other. After that very first meeting I realized, 'This is good for you. You need this.'"
Even though Lucas wasn't present for the sessions, Strickland said he was available around the clock. Sometimes he'd pick up Strickland on the weekend and take him to his house for a home-cooked meal. Other times the two would chat late into the night on the phone or bounce thoughts back and forth while driving around Houston.
"He knew when I was going to call him, how I was going to feel and when I was going to panic," Strickland says. "Some days I might have said, 'I want to get out of here. I'm not feeling this.' He may have calmed me down one time and cursed me out the next. Luc doesn't hold his tongue. But I needed that. Luc's word is gold."
Beneficial as his guidance has been to others, Lucas freely admits that one of the main reasons he started the wellness and rehabilitation program was for himself. He points out that the final bullet point in the 12 Steps to Serenity calls for addicts to "help others" conquer their problems with substance abuse and other issues. Staying active in such endeavors, Lucas says, is simply a part of his recovery.
"In the past, it was all about me," Lucas says. "If I wasn't the center of attention, I had an issue. I'd go to funerals and want to be in the casket, because all of the attention was on the corpse. At weddings I wished I was the groom, because all of the focus was on him.
"Alcoholics Anonymous taught me that I'm just another bozo on the bus. I'm nothing special, and I've learned to be comfortable with that. I grew up as an athlete. Recovery made me go back and grow up as a person."
Fresh off his morning A.A. meeting, John Lucas parks his black Cadillac Escalade in front of the gym at Lutheran North High School in Houston. It's just after 9 a.m., which means it's time to coach.
Among the players waiting for him inside are Khadeem Lattin, one of the country's most highly recruited players in the Class of 2014; Yanick Moreira, the nation's top junior college prospect who has signed with SMU; and Tack Minor, a key contributor to LSU's 2006 Final Four squad who has his initials (a T and an M) tattooed on the back of each calf.
"You know what that stands for?" Lucas says to the cocksure point guard. "Too F-in' Much."
Minor is used to getting an earful from Lucas, but today the coach has reserved his ire for Antoine Davis, a 14-year-old seventh-grader with braces who appears to weigh at least 50 pounds less than anyone on the court. When Davis takes a few stutter steps on the perimeter without moving toward the basket, Lucas halts play and approaches the guard on the court.
"What the f- are you dancin' for?" he screams as Davis droops his shoulders and stares at the hardwood. "I'll say it again. What the f- are you dancin' for? Boy, don't start that dancin' s-. You're not going anywhere doing that. Drive the ball toward the f-in' basket!" Watching from a folding chair nearby is former Indiana head coach Mike Davis, Antoine's father.
"Rough out there today, isn't it?" says Davis, smiling. He's asked if he's bothered by the tone Lucas is taking with his son. "Absolutely not. You can't beat this. Where else can a kid go play against this kind of competition in front a guy who was the No. 1 pick in the draft? He's pushing [Antoine] beyond his limits. He has no choice but to catch up."
The former Bob Knight assistant stops and shakes his head.
"John is the best I've ever seen," Davis says.
Now the head coach at Texas Southern, Davis and his wife home-school Antoine, which means he's able to work out with Lucas almost every morning. Lucas doesn't always know who is going to show up at his gym but the door is always open.
Veterans such as Minor are simply seeking a rigorous workout that will help them get back into shape and revive their careers. Others are eager for Lucas' advice.
The Harrison twins, Andrew and Aaron, who committed to Kentucky during the fall, have trained with Lucas. So has UCLA freshman Shabazz Muhammad and highly touted high school senior Jabari Parker from Chicago.
On weekdays, 9 a.m. practices are usually followed by a 15-minute Bible study and a catered lunch. Players then move to another facility to lift weights and then return to the gym for an mid-afternoon workout as well.
"Every day is a grind with him," Lattin said. "He teaches skill work, but he teaches toughness, too. There have been plenty of times when I've rolled my ankle to where it was the size of a tennis ball. Coach says, 'Get up and go play again.' One time I fell and had a small gash on my head. We wiped up the blood and he said, 'Get back on the court.' "It sounds rough, but that's what I need. I feel fortunate to be getting this experience."
Much like the living quarters at Right Step, the gymnasium at Lutheran North is far from posh. Lucas often keeps the doors open so air will circulate, the restrooms seem as if they haven't been cleaned in months and a glaze of dust and dirt covers the gym floor.
"Oil spill," Lucas screams after Minor loses his footing while attempting a layup, leaving a puddle of sweat on the hardwood. Rather than get a mop, the players move their game to the next court.
"I call our gym 'The Lab,'" Lucas says. "Everyone talks about how run down it is, with the dirty floors and the slippery courts. But I'm about getting it done. I don't care how it looks. It's like Muhammad Ali said: 'I'll run on the road so I can dance under the lights.'"
While some Houston-based players depend on Lucas for year-round training, others absorb all they can at the various events he runs throughout the country.
The NBA recently hired Lucas to be the scouting consultant for its Top 100 camp, which means he's responsible for identifying the nation's best high school prospects and inviting them to the event in June.
Lucas also puts on an NBA pre-draft camp each summer. He said that 14 of the 60 players selected in this summer's draft had trained at his gym. In the past, he has trained lottery picks such as Tristan Thompson and T.J. Ford of Texas and DeAndre Jordan of Texas A&M.
Lucas has contracted with a rehab division of a local hospital to help players with injuries and health issues. Some folks have suggested Lucas run his entire operation out of one facility, but he likes the fact that his pupils go from the Drury Inn to the gym to the hospital and all places in between.
"I used to be a public deterrent," Lucas says, "so I want these guys to become public contributors."
Initially, Lucas said players were hesitant to train with him because of the stigma attached to his name. If you're going to see John Lucas, you must have a drug or alcohol problem. But these days Lucas is getting as much recognition for the coaching he does on the court as he is for the mentorship he provides off of it.
"A lot of coaches don't go at them like I do," Lucas says. "I'm going to cuss. I've got $84 million pros getting cussed out in our gym, so you know I'm going to be tough on those little high school and college kids."
No one has complained. Just as he is with his rehab program, Lucas is a master motivator. He picked up some of his coaching tactics during the year he spent shadowing former Dallas Cowboys coach Bill Parcells. Along with being a basketball star at the University of Maryland, Lucas was also an All-American in tennis. One of his mentors was Arthur Ashe.
"I've experienced a lot of things that I can pass on to athletes," Lucas says. "I'm not just teaching the game. I'm teaching life skills. For the pros guys that aren't working hard, I remind them that there's another draft coming up the next year. They can be replaced.
"I've never seen a bunch of women following a guy with a sign that says, 'Will work for food.' These guys can't afford to let up. In the past, guys have come to me after they've taken a step back. Now I'm trying to get to them before that happens."
Each and every week - sometimes more than once - John Lucas receives a call from Lexington, Ky. When he looks at the caller ID and sees the name "Rod Strickland," Lucas can't help but smile.
After completing Lucas' treatment program in July 2010, Strickland was allowed to return to the Wildcats' staff as a special assistant to Calipari. He also has been taking classes on Kentucky's campus and is months away from earning his undergraduate degree, which he didn't have time to accomplish in three years at DePaul.
Best of all, Strickland has remained sober.
He said he hasn't taken a sip of alcohol since that April night nearly three years ago, when Strickland turned a terrible mistake into a life-changing moment.
"Everything has been better since I went to Luc'," Strickland says. "My family, my kids, my career. I look at my life now and say, 'This is good.' I'm a more open person now. I realize I can just be myself. I don't need to go out and have a drink."
Uplifting as Strickland's turnaround may be, Lucas realizes that not every story ends in success. For every person he has helped conquer substance abuse, Lucas hears about someone else having a relapse. For every player he helps re-focus and get drafted, there is another whose lazy ways resurface just when things begin to look promising.
"This isn't a healing house, now," Lucas says. "If we're doing 50-50, that's great."
Lucas picks up his phone and takes a call from Louisiana. He says there's a prospect there who is "having some issues" who might want to enroll in his wellness program. Lucas has never heard of the kid, but he decides to make the two-and-a-half hour drive to Lake Charles to meet him.
Lucas shrugs his shoulders and chuckles.